Skip Navigation
Website Accessibility
Al Cote is joining us for an Art Quilt Workshop Series
October 31, 2018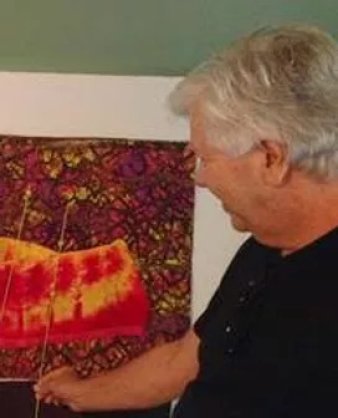 Fibre artist, Al Cote was born in Niagara Falls, ON. He completed his Visual Arts degree at Brock University along with his B Ed. He began combining his visual arts with fabrics and fibres when he and his wife Debbie owned a quilt shop. Al's creative and innovative classes soon found him travelling across Ontario and the USA. His fibre art work has been exhibited at the Houston Quilt Market, travelling exhibits visiting Canadian Embassies and is in private collections. Al teaches at Halliburton School of Art and Design in the summer months.
Al will be joining us to teach his innovative techniques in a workshop series of 4 classes. You can join us for one or all four! (There's a discount if you take all four!) The workshops are all day from 10am-4:30pm. They include lunch, coffee, tea and cookies.
Everyone that I talk to always says Al teaches a great workshop. He's creative and even helps you to see how creative you actually are! Don't miss out on these fabulous opportunities to learn about art quilting.
Sign up now!


Workshop 1: Abstract Improv
Make an abstract fibre piece using a fat quarter and your scraps of fabric, ribbon, thread, yarns, rovings and embellishments. Al will talk about scale, colour and balance while you learn his techniques. He will should you how free motion quilting can enhance the fibres to create a beautiful abstract piece. You will frame a small piece to hang. (The frame is included.)
Date: Saturday, November 17, 2018.


Time: 10am-4:30pm
Class Fee: $100 plus supplies (Includes lunch)
Workshop 2: From Gelatine Plates to Finished Art Quilt
Al will teach you how to make your own gelatine plates, which can be used over and over again. Paint will be applied to the plate and transferred onto cotton fabric using a printmaking process. When dried these painted fabric plates (at least 6) will be randomly sewn together and embellished with threads, ribbons, beads, and quilted as desired creating small art pieces or use them together to create one wall hanging.
Date: Saturday December 8, 2018.
Time: 10am-4:30pm
Class Fee: $100 plus supplies (includes lunch)
Workshop 3: Painting with Misty Fuse and Organza
Use this unique and easy fusible process to transfer painted imagery to organza. You will create a small art piece (approximately 8" x 10") that can be stitched, quilted and or embellished. This piece can be incorporated into a larger quilted wall hanging. Make sure you come in to see Al's sample!
Date:
Saturday, January 19, 2019.
Time: 10am-4:30pm
Class Fee: $100 plus supplies (includes lunch)
Workshop 4: Panels, Panels, Panels
Using 2 identical panels of your choice, you will create a beautiful one of a kind art piece. One panel is used in it's full glory. The second panel is cut into strips along with other coordinating fabrics and sewn together. The process is repeated in the opposite direction and sewn again. Then, the process is repeated but on the diagonal. These pieced strips are added to the full panel to create a beautiful hanging.

Date: Saturday, February 23, 2019.

Time 10a-4:30pm

Class Fee: $100 plus supplies (includes lunch)



If you sign up for all four classes it will be $375:
$200 due on date of sign up and
$175 due on January 19, 2019.